Franceska McCaughan is an international flower designer providing turnkey floral solutions for luxury brands, including the JW Marriott, Fairmont Hotels, Four Seasons, Hilton Hotels, and more. She is also an online course creator, educating florists on how to land hotel floral contracts. As the artistic director behind The Hotel Florist, she has combined her sense of wanderlust with her love of slinging stems allowing her to live, work, and play in more than 47 countries and counting. Before the floral business, Franceska's diverse background spans over ten years in hotel operations, sales and marketing strategies, business development, customer service, and exclusive luxury event management covering the Americas, Europe, and the Middle East.

Social media has played a big role in recent years in putting a hotel on the map (or radar that is) of guests seeking a beautiful "insta-worthy" hotel destination. Social media hotels have responded by making sure the decor of the hotel reflects the experience the guests want to have and with the right amount of aesthetics and beautifully designed creative focal points, the hotel creates beautiful spaces perfect for photo ops. Now, throw in some playful props and you have a hotel that is well on its way to becoming an "insta-worthy" location. Here are 4 ways wanna-be social media hotels can make their hotel more social media-friendly with flowers.
Floral Designers Are Experts at Creating Marketing Material

With the rise of influencer and social media marketing, hotels are now looking for ways to attract hotel guests with their "Instagrammable" decor and luxury comforts. Cue hotel flowers. Floral designers are experts at transforming ordinary spaces with a floral install that encourages guests to snap a photo, tag the hotel, and share their experience on their social media. Guests become a hotel brand's best marketers.

Hotel Flowers Make a Statement

The arrival experience is one of the most important guest experiences for hotels and it's important that they create an unforgettable and flawless check-in experience for the guest. It's no secret that everyone loves flowers, especially since flowers have the ability to transform a space from nice to magical. A great hotel floral designer knows to focus their floral budget on high traffic and common areas such as the lobby and create show-stopping designs and arrangements of the grandest scale that guests will be lining up to take the perfect shot with.

The Smallest Details Have the Biggest Impact
For social media hotels, the smallest details are what add to the overall experience of a guest. The same goes for flowers and space. The smallest arrangement or botanical touch can add so much value to overlooked spaces such as a restaurant or elevator bank. By placing a small arrangement in empty spaces a hotel provides a sense of luxury to the guests walking by, thus achieving a cohesive look and feel for the social media hotel. Think of it as wrapping a present and then tying a ribbon to finish the wrapped present. Another example of the smallest detail when it comes to creating a social media-friendly environment is having tables in the restaurant with simple details such as a rosebud submerged in a small round glass vase. It's the perfect prop for your guest to create a beautiful flat lay image with their morning coffee to post on Instagram — it also ensures free social media marketing that is on-brand.
Lighting & Ambiance Impact Floral Combos and guests
It's important to note that when it comes to hotel floral designs, lighting is key as it can impact the coloring, grouping, and floral structure. A tip I always give florists looking to submit a proposal to a hotel is to walk the space and take note of the lighting as this will affect the overall look and feel of the hotel florals on a weekly basis. Bright light is not only good for snapping the best insta-worthy photo, but it also allows a florist a lot of flexibility when it comes to selecting the florals. Seasonal florals and colors that tend to be either bold and vibrant or dark and moody, really set the tone and ensure the guest's arrival experience is cohesive to the property's desire. A favorite design technique of mine is color blocking for bright spaces, and designing with a monochromatic color scheme — which especially focuses on the color green. If a wanna-be social media hotel has a more dim light and warmer ambiance, a floral designer will want to avoid designing with smaller blooms and a darker color palette because the overall impact will be underwhelming as texture and details are lost in the shadows. Focusing on larger blooms, either linear or mass in a brighter color palette will allow the space to really pop and draw all eyes and cameras to the arrangement. Another tip is that you can never go wrong with clusters of white, for a chic and timeless look.

Another thing to note for floral designers is that lighting also impacts your floral's lifespan. Direct, harsh light can either burn your flowers or play a part in murky water, which would increase weekly maintenance. And may also make the guest experience not so memorable. So it's important for both a hotel and floral designer to keep lighting in mind when trying to create a social media hotel that guests will want to add to their social media pages.
If a hotel wants to create an environment where guests not only have a beautiful and luxurious experience but also contribute to free marketing for the hotel, then adding flowers to the hotel is going to achieve just this. And while hotels are experts in the hospitality industry, they are not experts at floral design and will need to rely on a florist with the ability to transform their spaces and turn them into a social media hotel. This is a partnership that benefits both the hotel's brand as well as the floral designer.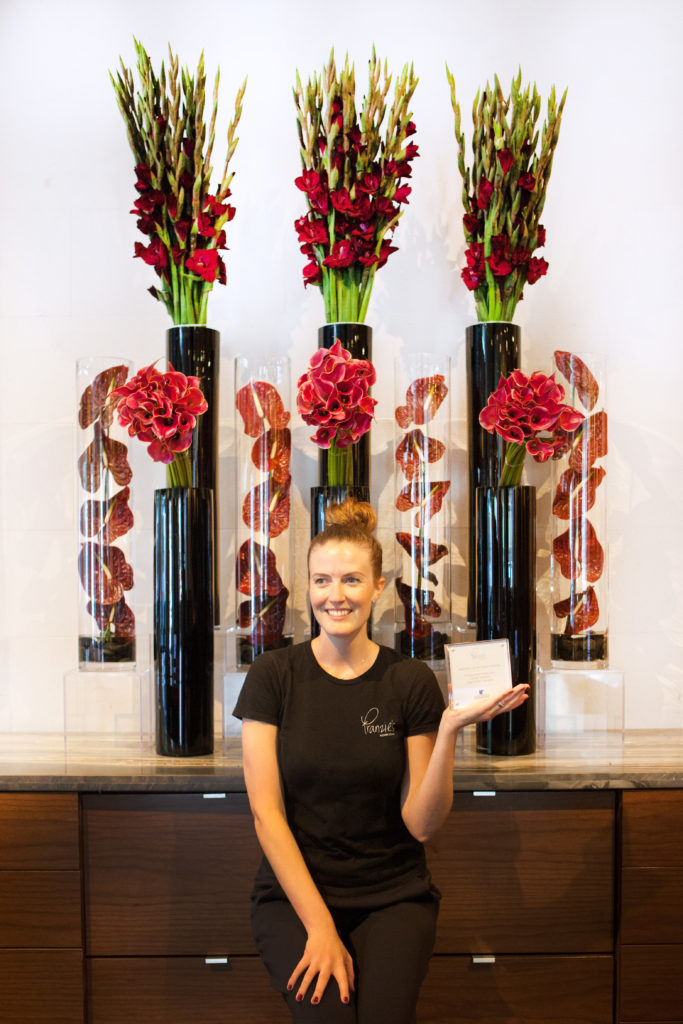 For florists looking to get started working with hotels be sure to watch this FREE masterclass on exactly how you can do that. The class focuses on 3 mistakes florists make when trying to land hotel partnerships and how you can avoid them. You can also follow along on Instagram @thehotelflorist for more valuable tips for landing and designing for hotel partnerships.